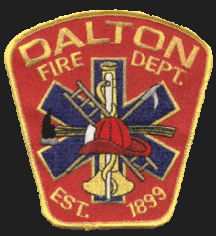 WELCOME
Unofficial Page
FIRE DISPATCH: 153.815 MHZ
PHONE: 413-684-0500 (IN TOWN = 911)
---
ANNOUNCEMENTS
Click headline for top content from Firehouse.Com
The Web's Community & Resource
for Fire, Rescue, EMS & Safety

The official page is now being built. It is at Daltonfire.com .

Burning Season is now Finished: YOU CAN NOT BURN NOW!

Spring is (Supposedly) Here!

Thanks to PAPA GINO'S in Pittsfield.. for their support in our open house.!!

- Seasonable.

Lets check those Smoke Detectors!!

---
| | | | |
---
LIVE IN DALTON?? WOULD YOU LIKE TO JOIN?? - EMAIL
Are you 12 - 21??? Join our Fire Explorer Program. EMAIL
.The Dalton Fire Department serves a population of approximately 7,000 people.We run with 3 pumpers, 1 rescue/pumper, and 1 ambulance, and 1 forest fire truck. We have approximately 40 call/volunteers and a Full time Fire Chief, which are combined FF and EMT's with a number of personnel doing both.
We answer approximately 600 Fire and EMS calls per year. Although many calls are medical calls, we do have a number of other calls. These include MVA's, minor fires, various fire alarms, and CO detector activations. We also responded to adjacent towns for Mutual aid, as well as Community oriented things such as parades and supporting our High School sporting events. We also do fire education with the Grammer schools.
The department also has a group of young volunteers that make up are Fire Expolorer program. They assist in various acitivities the department does, as well as take part in some of the training. If you are interested in this program send the department an Email. More information on this will be coming soon.
We would Like to express our thanks to the Dalton Police Department. They respond to most of our fire and ems calls, and usually give the first report.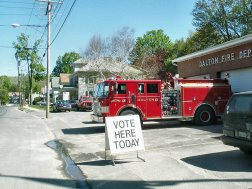 VIEW SOME PAST DEPARTMENT PHOTOS

FIRE OFFICERS

2002 - 2003
Total Runs for 2000 = 594
CHIEF HUBERT "TED" WHITE

CAPT. RICHARD KARDASEN

LT. STEVE PERRY

Lets Het the Hot dogs!!

DALTON AMBULANCE 5/8/01

ASST. CHIEF RICHARD OLSTED

LT. PETER BROWER

LT. CHRISTOPHER CACHAT

Safety Officer Barry Smith
---
--The National Center for Missing and Exploited Children--
Call 1-800-THE-LOST or the local Police immediately.
SPONSORS